When you want to put a title on the celebration, there is no better add-on than balloons! Wild or mild, balloons make a festive compliment to your flower delivery, or a big, bold feature for the occasion. What can Bagoy's deliver for you, Alaska?
Favorites in Balloons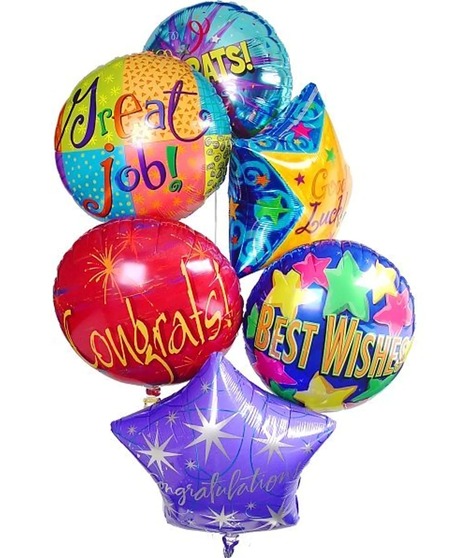 $99.95
About

Balloons
Make your celebration more exciting with a balloon bouquet! Our premium mylar balloons are decorated with curling ribbon streamers and hand-delivered along with your flowers to mark an extra special occasion.
Bagoy's Florist & Home is proud to offer a wide range of balloons and balloon bouquets for any occasion: birthdays, new babies, romantic events, and so much more! Our balloons are a gorgeous stand-alone gift, or go great with a floral arrangement! We offer same-day delivery to all of Anchorage, Alaska and nationwide!
.
A normal, latex balloon will last about a day at peak floatiness. But even longer as a semi-boyant reminder of joy! Keep them in a comfortable environment for the longest lasting balloons.
Mylar balloons remain full and taut for 3-5 days and will continue to float for two weeks or longer! Cold air can cause them to shrivel, so keep them comfortable to keep them bouyant!
Many of our balloons are made of mylar since the latex allergy is so common. For more information, be sure to read the product description, or call our experts standing by! We deliver to all area hospitals, funeral homes, nursing centers, residences, schools, and so much more! If you are in Anchorage, we can deliver to you!
A Word from Our Customers