When you can't spend the day together, how else can you celebrate Valentine's Day with your favorite guy or gal? Luckily, here at Bagoy's Florist & Home in Anchorage, we have a few "romantics" on our team. We took some time to compile a list of meaningful gestures and thoughtful gifts that you can send right to your sweetheart's doorstep.
Seven Perfect Tokens Of Love For A Long-Distance Romance
Special Scented Candles
Transport your Valentine back to a favorite date, cherished moment, or special place with the scent of a lovely candle. Choose a fragrance that reminds them of a memorable time, place, or person. Create a personalized label with a photo or quote to spark extra romance the instant they open their gift.
Personalized Coffee Mug
Since you can't be there to pour their coffee in the morning, you can still be sure they have the best mug in the house. Customize a cozy mug to remind your sweetheart how much you care. Each morning, or whenever they need to warm up with a hot beverage, they'll see a special photo, romantic quote, or treasured token of your love.
Heart-Shaped Waffle Iron
Your breakfast-sweets-loving gal or guy will love this unique and thoughtful gesture. When you can't be there to prepare a romantic breakfast, the next best thing is to provide heart-shaped tools so you can ensure it's still special. Fun waffle irons, cookie cutters, pans, and other heart-shaped molds can let you be a part of their daily breakfast routine from afar.
Heart-Shaped Jigsaw
A thoughtful gift from the heart can be simple, like a jigsaw puzzle. Select a romantic theme or heart shape for a perfect Valentine's Day present. Your sweetheart will love putting the pieces together and staying busy while you're unable to be together.
Conversation Starters
If your partner is tired of telling you about the chicken they had for dinner, or how their day was still the same as the one before, this is the perfect gift. It's a thoughtful gesture to help inspire a more interesting conversation for your next virtual date. With thought-provoking prompts and topics you've never discussed before, a conversation starter deck is suddenly just as romantic as planning an evening out on the town.
I Love You Balloon
Fill their home with your love as a romantic, fun, quirky, and thoughtful balloon floats around their living space. A cute "I Love You Balloon" is sure to liven up their home, brighten their mood, and warm their heart while you are apart. They will love waking up every day to find your cheerful gift still intact for days.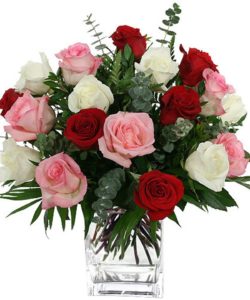 Be Still My Heart
Brighten their day with a classic bouquet of roses. Delivered in a beautiful modern glass vase, Be Still My Heart is created with crisp greenery and colorful roses of red, pink, and white. Your sweetheart will love having fresh flowers in the home, especially gorgeous blooms from their love.
The Romantic Package
This classic trifecta of Valentine's Day romance is hard to beat. With a lovely bouquet of long-stem red roses, mouthwatering chocolate truffles, and an adorable cuddly teddy bear, The Romantic Package says it all. You can't go wrong showering your love with this tried and true gift.
Sending special gifts to your other half says more than, "I love you." You're reminding them how much they mean to you, that you pay attention to them, and above all, you've been thinking about them. There's nothing you can send that won't be received with gratitude. The team at Bagoy's Florist can't wait to help you make your special delivery.