ABOUT THE COMPANY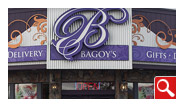 Thank you for selecting Bagoy's Florist. Sending flowers is a purchase based on trust -- a trust we take pride in. We care about our work and respect the sentiments behind each floral gift order.
At Bagoy's, your business is highly valued and we will do our very best to please you. Your floral gift from Bagoy's is a true sign you care.
If you are unable to find what you are looking for on this website, please call our sales team at 907-522-1922 or 800-478-8787 for personalized service.
Randy and Chanda Mines -- Owners
Proudly Serving Anchorage Since 1922
1922 - Bagoy's began when Mr. & Mrs. John Bagoy, Sr built a small greenhouse for growing fresh vegetables for their family. People insisted on buying as much of the rare fresh veggies as John was willing to sell. Due to the popular demand, their small greenhouse quickly grew and they expanded to growing bedding plants and flowers. Mrs. Bagoy was soon asked to create arrangements for parties, weddings, and funerals with her fresh flowers. During the winter months she would design arrangements using paper flowers she had made. As demand for their products grew, they tried shipping potted plants up from Seattle, which was very successful with 1,000-1,500 plants arriving each holiday. People would line up in the street to get one of the pots of fresh flowers.
1939 - John Bagoy passed away and his daughter, Mary, and her husband, Otto Lakshas, began helping Mrs. Bagoy in the business.
1940 - "Fly-by-night" pilots began unscheduled freight hauls up to Alaska and Bagoy's began to receive fresh cut flowers and blooming plants via air. Bagoy's joined FTD this year as well.
1943 - Bagoy's began to focus on floral work with the greenhouse taking on less importance. The original location - the Bagoy family home - was remodeled to make room for display space and work rooms with the family moving upstairs. Mary went to floral school and hired a designer from Oregon.
1952 - Mary and Otto Lakshas purchased the business, the greenhouses were taken down, and Mary added giftware to the shop.
1958 - Bagoy's moved from the family home to a new building at 4th & B with four full-time and two part-time designers.
1964 - The Lakshas were set to purchase and expand the building at 4th & B when the Good Friday Earthquake hit and demolished the building - it sunk a full story into the ground. Since there was not enough of the building left to rebuild, the business moved to an old garage on the corner of 7th & D.
1969 - Due to Mary's poor health, Bagoy's was sold outside the Bagoy family to Felix and Jennie Gay. Jennie's sister, Helen Gunther, was working as a designer at the time and the sisters ran the business with Felix coming to help in the evenings after his full-time job at Alyeska Pipeline.
1976 - Bagoy's expanded with a second shop on the corner of Fireweed & C during the oil boom.
1980 - The Gays offered to sell Bagoy's to Carol and Paul Humphrey who had opened the Garden Gallery in 1978. It was a flower shop/art gallery run by Carol while Paul worked days at the IRS. He spent his spare moments at the store with Carol. When Carol and Paul purchased Bagoy's, Paul resigned from the IRS to work full time at the newly merged buisnesses named Bagoy's Gallery of Flowers and Fine Art.
1982 - The current Bagoy's headquarters at Dimond & New Seward was built and staff had doubled.
1992 - Paul and Carol retired, leaving their eldest daughter, Chanda and her husband, Randy Mines, to manage the business, which they then purchased in 1994. The name of the business was changed to Bagoy's Florist, Inc and the fine art was exchanged for upscale home decor items.
1999 - present - The Mines opened a second business on Dimond called Bagoy's Home to focus on accent pieces and giftware for the home, which was moved to Midtown in 2001. Flowers were later added and the business got it's current name, Bagoy's Florist & Home.